​Stepwells are very unique ancient Indian technology which is now very famous among visitors to Rajasthan, Stepwells were once constructed for the main purpose of water storage and it also worked as air conditioning systems in palaces and forts. Main USP of these systems is that they are built in a very uncommon structure. Also known as Baori or Baoli or Vav in local Rajasthani languages, the step-wells are unique architectural marvels of India that you will find especially in the Indian state of Rajasthan. Thing which surprise the people is that the base of the step-wells in Rajasthan will have 10 degrees cooler temperature than its surrounding areas, providing a respite from the hot weather conditions in Rajasthan. Historians, Visitors and travellers find these places very fascinating given the semi-symmetry structures with which they are built. If you like to visit them too, here Ghum India Ghum have is a list of stepwells in Rajasthan that you should know about
1. Chand Baori, Abhaneri
Chand Baori at Abhaneri is most famous stepwell of Rajasthan and it is most visited stepwell in Rajasthan. It is named after King Raja Chanda. Chand Boari is build in many parts oldest part of Chand Baori is almost from 8th century onwards, Upper Palace portion was later build by Chauhan rulers, Later upper arcade was build around 18th Century during Mughal Era. Its popular due to with its unique architectural style which includes deep four-sided well with a large temple on the back face of the building and 3500 narrow steps and astounding 13 storeys. It is an ancient stepwell of Rajasthan that is situated in Abhaneri, a village located at a distance of 94 km from Jaipur. Constructed opposite to Harshat Mata Temple in the 800 AD, the stepwell was constructed by Chanda of the Nikumbh Empire to solve the crisis at that time.
2. Panna Meena ka Kund, Amer
Apart from being a place for accessing, the Panna Meena Ka Kundonce worked up as a social meeting spot as well. This old and rustic stepwell makes an interesting tourist spot where people come to admire the breathtaking architecture. The symmetrical stairs that go down up upto eight storeys are enough to attract you with the way they are styled in the stepwell. While stepping on the zigzag geometrical pattern of the stairs, you can catch a view of the magnificent Amber Fort and Palace along with a stunning view of the mountains. If you get chance to visit the stepwell during monsoon amd summer days you can see people diving right into the kund which makes for a joyous sight.
3. Hadi Rani ki Baori, Tonk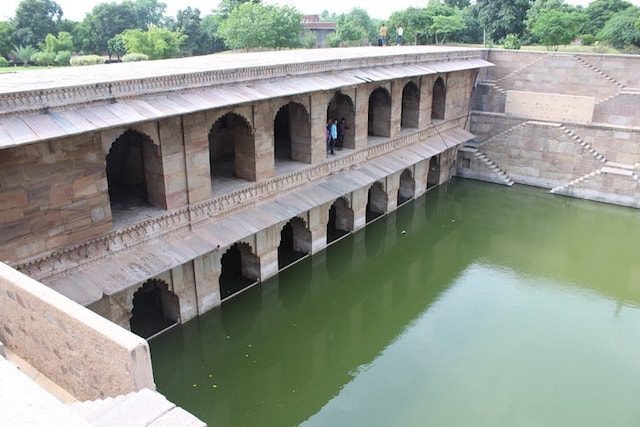 Hadi Rani ki Baori is situated in the Tonk district, 150 kms away from Jaipur. The three-storey stepwell is another architectural marvel that you can visit while you explore Rajasthan. Its like must visit spot for the locals, the stepwell is very well-maintained with the very clean water. Its almost 800-years old stepwell, it keeps attracting locals and tourists through out year. The place was built in the honour of Hadi Rani. If the story of the locals is to be believed, Hadi Rani was the wife of Great Ratan Chudawat, who was ordered by the of Mewar King to fight against the Mughals. Ratan Chudawat was hesitant or was not ready to leave for war right after marriage. In order to motivate her husband to fight in the battlefield, Hadi Rani got her head severed. Following this, Ratan Chudawat ​​joined the war and tied her head around his neck by the hair and even won that day. However, he eventually severed his own head because he was not able to bear the of having to live without his wife.
4. Raniji Ki Baori, Bundi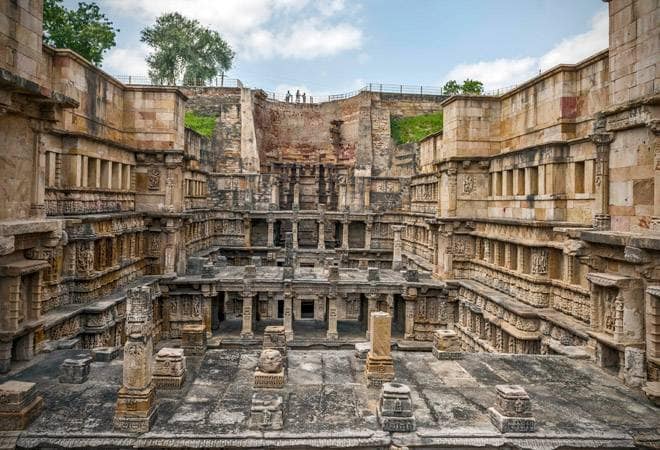 Build in the year 1699 by Late Rani Nathavati Ji, Raniji ki Baori is a famous stepwell situated in Bundi town. Having a total of 50 stairs, the baori was a famous meeting place for the locals for religious and social purposes. Showcasing architectural marvel at its best, the stepwell has a sleek entrance with structures facing towards each other. The main entrance also has beautiful pillars and a massive arched gate. On discovering more you will also find a place of worship on every floor.
According to the historians, Rani Nathavati Ji devoted her complete life towards the well-being of common people and hence began the construction of the baori.
5. Toorji ka Jhalra, Jodhpur
Constructed in the year 1740, Toorji Ka Jhalra showcases intricate designs that mirror the lifestyle of the generations gone by. Shedding light into the conventional management systems of Jodhpur, the stepwell is a must-visit attraction while you tour the city of Jodhpur. Built with the popular red sandstone, the stepwell is a whopping 250-year old structure. Being 200-feet deep, Toorji Ka Jhalra was once decorated with elaborate carvings of lions, elephants, and waterspouts. The stepwell is visited by locals for games in order to get some respite from the hot summer weather of Jodhpur.
Each stepwell in Rajasthan has a unique tale to narrate that lets you peek into the history behind its construction. The intriguing architecture of these stepwells attracts several travellers to Rajasthan, which further highlights the fact that it is an architectural concoction like no other.
Hello:-
If you'd like to chat about visit India or need help finding a holiday to suit you we're very happy to help.
Ghum India Ghum Travel Agency in Chennai, Tamil Nadu
Ghum India Ghum – Travel Agent in Delhi | Tour Operator in Delhi
Grab a cab :- Delhi's best car rental company
Ghum India Ghum team.
+91-8860139194/ +91-9971089194