Choosing top 10 temples are difficult tasks I know. We will be discussing top 10, often generates a lot of buzz sometimes very angry response of the offended individuals whose popular are not included. – But alas, I had only ten slots and after considering and measuring a few temples from across the country I arrived at this conclusion when I compiled the list of 10 of the best temples in India. Mentioned below is the list of top 10 temples in India sprinkled crosswise over various territories of this wonderland.
Khajuraho Temple in Madhya Pradesh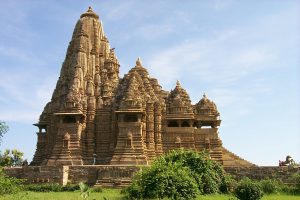 A group of monuments standing as a proof that sexiness was not a forbidden subject in India, The Khajuraho temples are renowned for their beautiful carvings on the outer walls. But when you'll enter the complex, the insides of temples are exact opposite. All around cut, quiet and peaceful.worked amid the rule of Chandela line, these temples are affectionately frequented more because of its imaginative splendor and less because of the religious enthusiasm. The temples are divided into four groups- western, eastern and southern. While western and southern group of temples is the great extent committed to two Hindu gods- Shiva and Vishnu, the eastern group is highly influenced by Jainism. The best time to visit these temples is Khajuraho celebrations which depict several classical dance performances by dancers in the setting of great Khajuraho temples.
Somnath Temple in Gujarat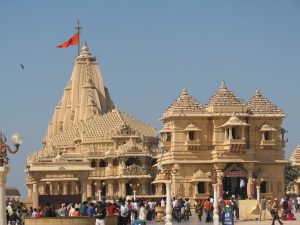 Somnath temple has the acknowledgment of first Jyotirlinga of Lord Shiva and enhances the vibrant state of Gujarat. The word 'Somnath' means Lord of the Moon. Mythology says that Somnath temple was first worked by the moon God after Lord Shiva tuned in to his petitions and somewhat liberated him from the curse of waning given to him by his father in law Daksh. The shelter Lord Shiva is thought to be the reason behind waxing and disappearing time of moon between full moon and New Moon. Over the course of history, the temple has been scoured and modified a few times preceding its last restoration in 1947.
Kashi Vishwanath Temple in Varanasi, Uttar Pradesh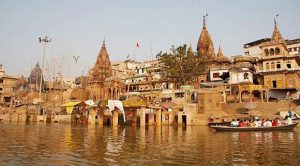 Built by Ahilyabai Holkar in 1780, Kashi Vishwanath temple is one of the holiest and venerated temples of Varanasi, devoted to Lord Shiva.It is said that a bath in the heavenly waters of the Ganges and a visit to this temple can free a person from the sins of a lifetime.The temple is being worshiped for two major reasons- first is its reverence as one of the twelve Jyotirlinga of Lord Shiva and the second is the 15.5 meters high gold spire and 3 domes constructed using pure gold. Book your Varanasi package from Ghum India Ghum and get additional discount and other benefits.
Lord Jagannath Temple in Puri, Orissa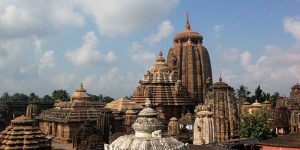 Situated on the northern coast of Orissa, Lord Jagannath temple was built by Raja Anantavarman Chodaganga Deva in the 12th century. The temple is dedicated to the Lord Jagannath and is most popular for its annual Ratha Yatra which is attended by millions of Hindu pilgrims every year. Housed with 120 places of worship and temples and encompassed by a soaring fortified wall, the temple complex is one of the magnificent structures of India. The Mahaprasad served in the temple is a pure vegetarian meal cooked without using onion and garlic.It is believed that food is ready under the scrutiny of Goddess Mahalakshmi and those who have it attains spiritual growth.
Venkateshwara Tirupati Balaji in Andhra Pradesh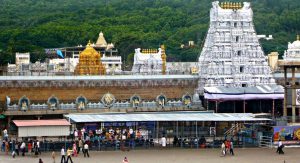 Considered as the second wealthiest pilgrimage center after Sree Pdmabhaswamy Temple, Tirupati Balaji is the biggest visited temple in India with its yearly visitors touching 40 million. Built in Dravidian compositional style, the temple was built during the empire of Krishnadeva Raya.  During a special moment such as Ram Navami, Brahmotsavam and Janmashtami the number of pilgrims coming to the temple can mount up to 5, 00,000 per day.
Meenakshi Temple in Madurai, Tamil Nadu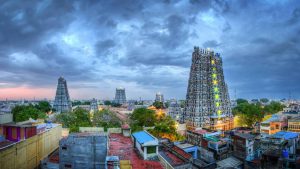 Situated in the Madurai district of Tamil Nadu, Meenakshi Sundareshwar Temple is a historic Hindu temple dedicated to the Goddess Meenakshi (Parvati) and her consort Sundareshwar (Lord Shiva).The temple structure is a foremost example of Dravidian style and houses 14 gopurams which are painted in bright colors and bejeweled with figures of animals, gods and demons.
Siddhivinayak Temple in Maharashtra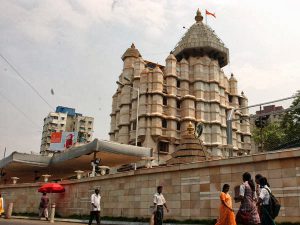 One of the most popular temples of Lord Ganesh, Shree Siddhivinayak Temple is considered as a real part of the most revered temples of India Tour. The temple was built by Vista and Deubai Patil in the year 1801 and the present generation of Patil family remains in its region. The sanctum Sanctorum for lovers of elephant divinity Ganesh, Siddhivinayak Temple boasts of a small Mandapam where the main symbol of Siddhivinayak is cherished. The wooden doors of this temple are cut with the pictures of Ashtavinayaka and the inward rooftop is plated with gold.
Akshardham Temple
Akshardham or the Swaminarayan Temple is a Hindu temple complex in Delhi, India. This superb temple complex displays centuries of traditional Hindu and Indian culture, spirituality, and design. The possibility of The Akshardham Temple Complex was imagined and created by Pramukh Swami Maharaj, the spiritual leader of the Bochasanwasi Shri Akshar Purushottam Swaminarayan Sanstha. During the development of this temple, around 3,000 volunteers of Bochasanwasi Shri Akshar Purushottam Swaminarayan Sanstha helped 7,000 craftsman build Akshardham. This temple is visited by 70% of all tourists who visit Delhi making it a most standout tourist destinations in Delhi with Ghum India Ghum is one of the finest tour operator in Delhi.
Golden Temple in Amritsar, Punjab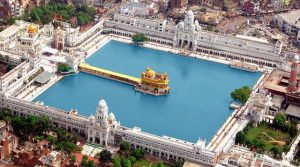 Golden Temple in Amritsar An impeccable symbol of religious tolerance and spiritual freedom, Harmandir Sahib aka Golden Temple is the most popular Sikh pilgrimage in Amritsar, India.The foundation of this Sikh temple was laid by Guru Arjuna Dev and was later refurbished by Maharaja Ranjit Singh, who bejeweled it with chaste gold and changed it into an architectural masterpiece. The consecrated pool known as the Amrit Sarovar has a great spiritual significance and is accepted to have corrective medicinal powers.
Brihadeshwara Temple in Thanjavur, Tamil Nadu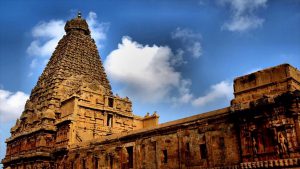 Assigned as World Heritage Site by UNESCO, Brihadeeshwarar Temple is one of the most famous temples in Tamil Nadu, south India owing to its religious noteworthiness and artistic brilliance. Built during the reign of the Chola dynasty, this temple structure is exclusively built in granite. This heavenly temple flaunt dazzling carvings which are supreme examples of artistic creativity. Since this list could oblige just 10 temples in India, we unfortunately missed out on the Mahabodhi Temple in BodhGaya.
Hello.
If you'd like to chat about India or need help finding a holiday to suit you we're very happy to help.
Ghum India Ghum :- Tour Operator in Delhi.
+91-8860139194/ +91-9971089194
info@ghumindiaghum.com