The Hawa Mahal in Jaipur is one of the most iconic attractions of the city. Whether you have​ visited it or not, almost everyone has at least heard of it. While the palace has some well-known features, like how ​much ​it's always windy inside, but there are a few interesting facts that few​ people are aware of.
What's in a name?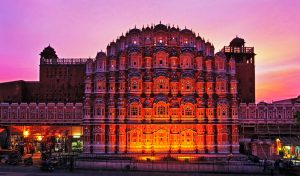 The five-storey building that looks like the honeycomb of a beehive, with 953 windows, is literally named the "Palace of the Winds", which fits in perfectly with the amazing ventilation of the building.
Behind Closed Doors
The main purpose behind building the Hawa Mahal was to allow the ladies of the court and the royal family to observe the happenings of everyday life in the streets below, without being seen themselves. This was in complete accordance to the strict purdah rules of the time
Amalgamation
Hawa Mahal is more than a palace; it is an architectural and cultural heritage that truly reflects a harmonious fusion of Hindu Rajput architecture and the Islamic Mughal architecture. You can see the Rajput style in the fluted pillars and domed canopies, and the Mughal style is visible in the arches and the stone inlay filigree work.
A Rootless Existence
The Hawa Mahal is a 5 storey building and is the tallest building in the world that is built without a foundation. Because of this, the building is curved and leaning at an angle of 87 degrees, in a pyramidal shape that keeps the building erect.
The Hawa Mahal is dedicated to lord Krishna and it is said that the shape of the building depicts the crows of Krishna. Truly an architectural and cultural wonder, Hawa Mahal in Jaipur definitely deserves a visit.
Experience the Incredible India with one of the leading travel agency Ghum India Ghum
Hello:-
If you'd like to chat about visit India or need help finding a holiday to suit you we're very happy to help.
Ghum India Ghum team.
+91-8860139194/ +91-9971089194
info@ghumindiaghum.com / ghumindiaghum@gmail.com