Introduction
Holi, also known as the Festival of Colors, Love, and Spring, is a vibrant Hindu festival celebrated with great enthusiasm across India. It marks the end of winter and welcomes the spring season. On this festive day, people play with colors, meet and greet one another, and create new beginnings. But how does Ghum India Ghum, a popular travel agency in Delhi, cater to this colorful festival for foreigners? Let's find out!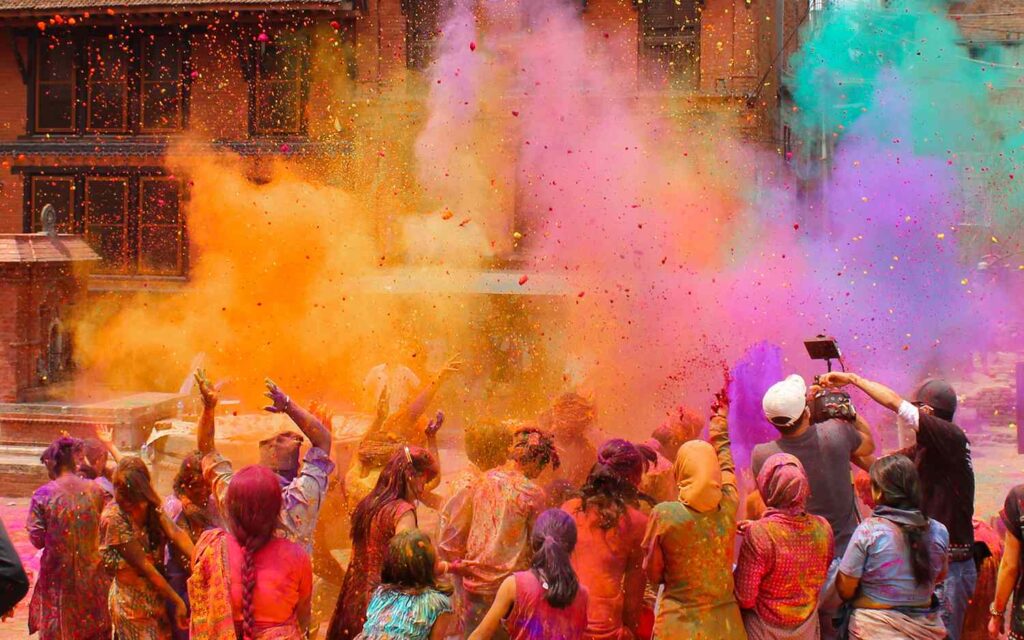 The Significance of Holi
Holi celebrates the eternal and divine love of Radha and Krishna. It is also associated with the victory of good over evil. The first day of Holi is celebrated as Holika Dahan, symbolizing the victory of good over evil. In the region of Braj (where Lord Krishna grew up) in Uttar Pradesh, Holi is celebrated until the day of Rangpanchmi as a huge festival of colors, in memory of the devotional love of Krishna and Radha.
Celebrating Holi with Ghum India Ghum
Ghum India Ghum offers a special 6-day Holi festival package with Golden Triangle tour. This tour is designed especially with the festival of colors, Holi in the spotlight. It includes a tour of Delhi, Agra, and Jaipur with Holi celebration in Jaipur.
The package is designed to give foreigners an immersive experience of this colorful festival. They get to play Holi in Jaipur, known for its royal celebrations. The package also includes sightseeing tours in Delhi, Agra, and Jaipur. This allows foreigners to explore the rich history and culture of these cities while enjoying the festive spirit of Holi.
Conclusions
Holi is more than just a festival; it's an emotion that brings people together. It's a time when streets become arenas for celebrations, and life becomes a rainbow of colors. So why wait? Plan your Holi celebration trip with Ghum India Ghum and immerse yourself in the vibrant colors of Holi!
Holi Celebration in Jaipur Includes
01 Veg. Lunch in Jaipur during the Holi Celebration .
Unlimited colors (bag of 5 different color on entry)
FolkDance/ Folk Music
Games competitions
Welcome with "CHUNG" a traditional Holi festival instrument & drummers/girls in colorful dresses
Live performance – entertainment folk dance folk music
Water bottles/Snacks/ Bhang lassi
Venue stocked up with "Thals of dry Gulal Color" made from organic cornflower bas.
*Note:* The details about the packages offered by Ghum India Ghum are subject to change. Please visit their official website or contact them directly for the most accurate information.