Pushkar is a famous place in Rajasthan state, known for its camel festival and Brahma's only temple. If you are devoted or enthusiastic about Indian values and traditions, you must visit Pushkar. Here you will view beautiful lakes, holy temples, and traditional life. So what are you waiting for? Book one of the best travel companies in India and mark this as your favourite place. 
The five exciting and adventurous things to do at Pushkar are as follows:
Enjoy an exhilarating camel safari 
If you have made your tour and travel in Delhi and now planning to visit Pushkar, you will experience more. In this deserted place of Rajasthan, one of the most interesting things to do is camel safari. Camel Safari takes you on an exciting ride to many villages. You get to see desert hamlets and arid topography. In addition, you can witness an amazing sunset view that excites and relaxes you.
Experience adventurous camping in the desert
Are you a camping person? If so, you must get excited about staying in camps in a desert. In addition, you can enjoy sunsets, musical performances, and delicious local dinners in Pushkar. Moreover, there are luxury camps that offer a special experience to travellers. You can book one of the best tour operators in Delhi to guide you to Pushkar.
Take an amazing ride on a hot-air balloon.
 If you know about any fair in Pushkar, it's time to visit this place. You can get help from the known travel agencies in Delhi to give you more information about the fairs. This is because it will be a great time to visit Pushkar. You can have a bird-eye view while sitting in a hot-air balloon and experiencing the city. Enjoy watching the fair, temples, lakes, and forts for almost an hour from a hot-air balloon.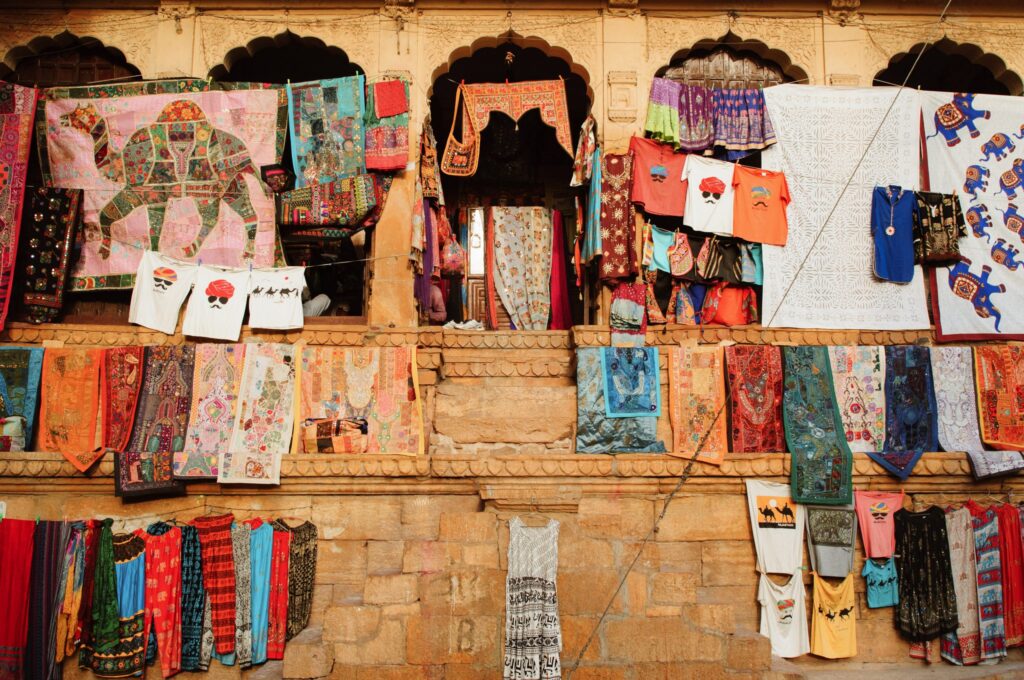 Shop colourful handicrafts in Pushkar
One of the best Travel agents in Delhi could tell you the best things to do in Pushkar. One of them is shopping the handmade crafts from the Pushkar market. It is a peaceful market to buy traditional things. You may find various clothing, jewellery, books, textiles, and gifts at affordable prices. Also, you will find that the vendors are quite cooperative and could boost your bargaining skills.
Attend the evening aarti at Varah Ghat
Pushkar is a holy city with more than 400 temples, including India's only temple of Lord Brahma. You must visit Pushkar once to take blessings from these holy temples. Also, you will get a photogenic view of these temples. Moreover, attending the evening aarti at the famous Varah Ghat is also a great experience. You will glimpse many bright earthen lamps and hear the sounds of holy chants and ringing bells during the aarti.
Conclusion
Visiting this deserted city of Rajasthan is an experience in itself. With the above, you can also explore cafes, stop by lakes, take selfies at different spots, and have a local taste. Hence, visiting Pushkar will be a wonderful experience. Moreover, you can book one of the best travel companies in Delhi to enhance your experience in Pushkar.
Hello:-
If you'd like to chat about visit India or need help finding a holiday to suit you we're very happy to help.
Ghum India Ghum Travel Agency in Chennai, Tamil Nadu
Ghum India Ghum – Travel Agent in Delhi | Tour Operator in Delhi
Grab a cab :- Delhi's best car rental company
Ghum India Ghum team.
+91-8860139194/ +91-9971089194
info@ghumindiaghum.com / ghumindiaghum@gmail.com