Rajasthan is famous for its huge architectural wealth. Starting from Palaces to luxury hotels, there is always an architectural beauty associated with it. The same way it goes with the temples of the state. You will find huge ancient temples around the state which are famous for beauty, rituals and pilgrimage. People of all faiths are allowed to inside temples, it not limited to only Hindus, and can also take part in puja or rituals. Best way of seeing charm of these temples and enjoy culture of Rajasthan is during festival times. We are here with top 5 famous temples which you can see on your Rajasthan tour package. Book your Rajasthan tour packages with travel agents in Delhi and explore Rajasthan with local experts of Ghum India Ghum.
1. Birla Mandir, Jaipur
This is the most famous & visited temple of the state. Situated on the foothills of Moti Dungari of Jaipur, this temple was built in 20th century by the famous Birla family. This temple is devoted to Lord Vishnu or Krishna and his consort, Lord Lakshmi. The temple have three domes, which stands for the three main religions that were born in the country. Inside the temple, you can find statues of deities of many religions, philosophers, national honor and so on. The temple is  popular for its delicate architecture and the calmness of the place. Best time to visit this temple by sunset to  witness the richness of each detail in the architecture, highlighted by artificial lights decorating the temple. Whenever you are going to Jaipur do  must visit Moti Dungari temple, which is very close to Birla Mandir.
2. Brahma Temple, Pushkar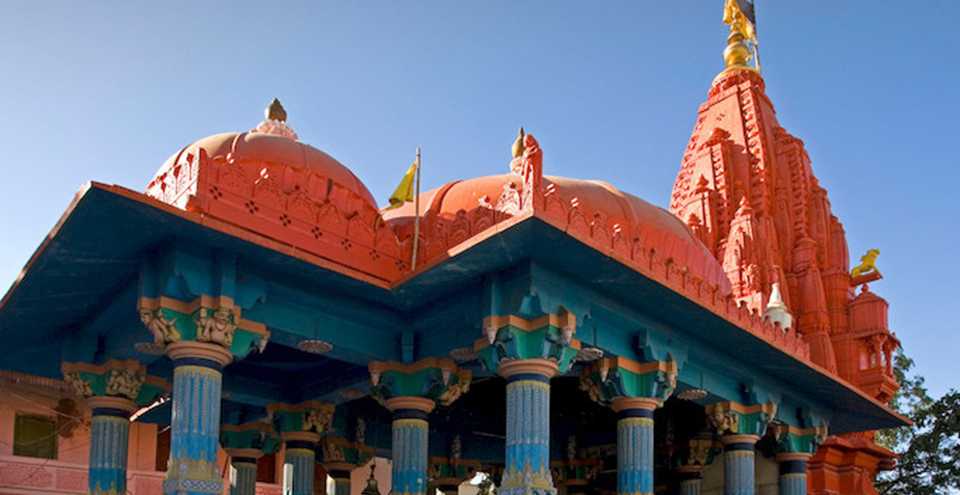 According to Hindu mythology, Lord Brahma, the creator of the world was cursed that he don't have any temple or worship forms on the Earth. Thus, it is very hard to find a temples dedicated to Lord Brahma. Even in temples where his companion, Lord Saraswati is seen, Lord Brahma would not be erected. There are very few temples in the world for Lord Brahma and the best from  all is the Brahma temple of Pushkar. Also called as Jagatpita Brahma temple, this temple is  situated very close to Pushkar Lake. The temple is  believed to be more than 2000 years old. The best time to visit the temple is during Kartika Poornima as per Hindu calendar. Taking a holy dip in the lake and offering prayers or puja  in the temple is best way of Praying here.
3. Karni Mata Temple, Bikaner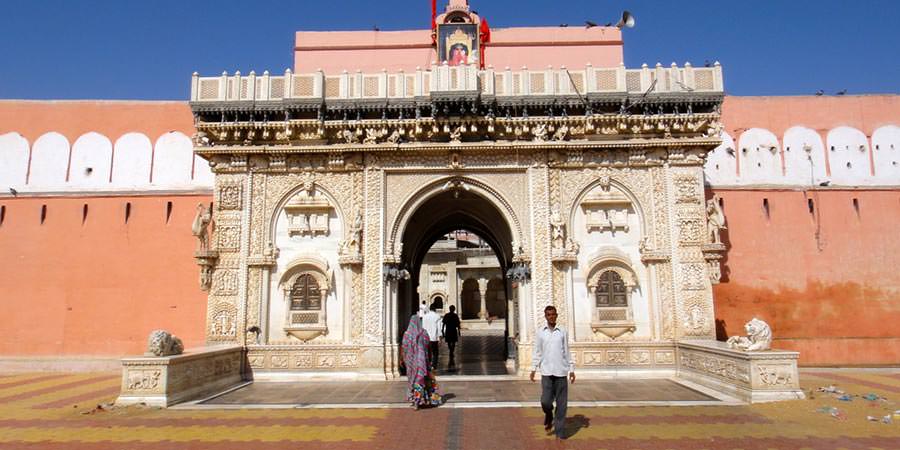 This Temple is most famous temple in India among foreigners, This Temple is also known as Rat Temple. Temple is located deshnoke 35kms Bikaner. In Karni Mata temple more than 25,000 black rats lives. The main part of ritual of the temple is to feed the rats which are called kabbas. If a rat is dead, a rat statue of solid silver is put in the temple complex. The main prasadam of this temple is nibbled food of rats . The best time to visit the temple is during both Navratras time.
4. Eklingji Temple, Udaipur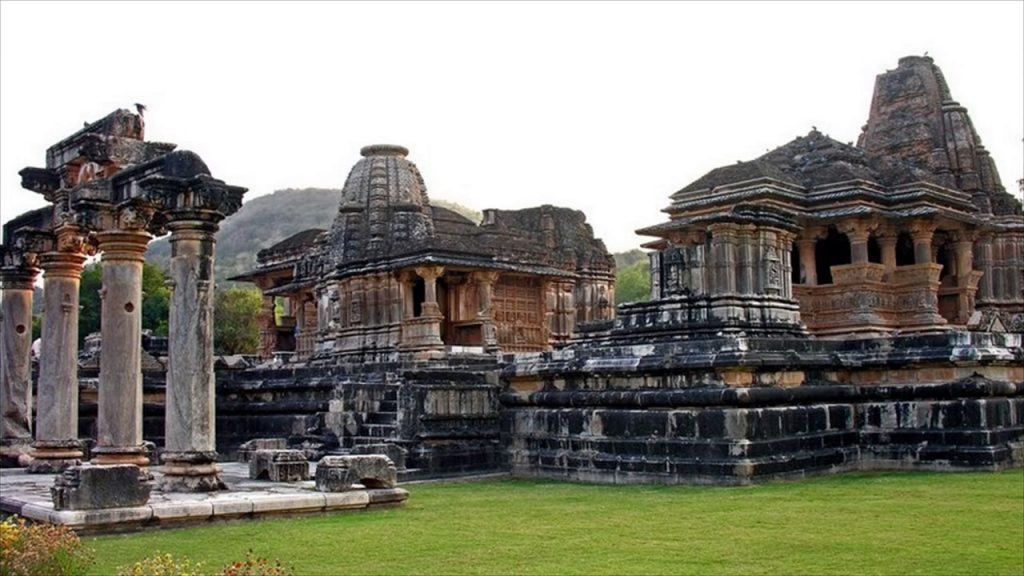 This 8th century temple is  situated in Udaipur western part of India. The temple complex is built with 108 temples, surrounded by high walls. Today out of which  few temples stand proud. Main part of Complex is of Lord Shiva temple. This is a regarded as very important pilgrimage site. If you visit this temple during Mondays, you can find many people offering rituals for Lord Shiva. The best time to visit  this temple is during Maha Shivaratri. The date for Shivaratri changes every year, based on the lunar calendar.
5. Ranakpur Jain temple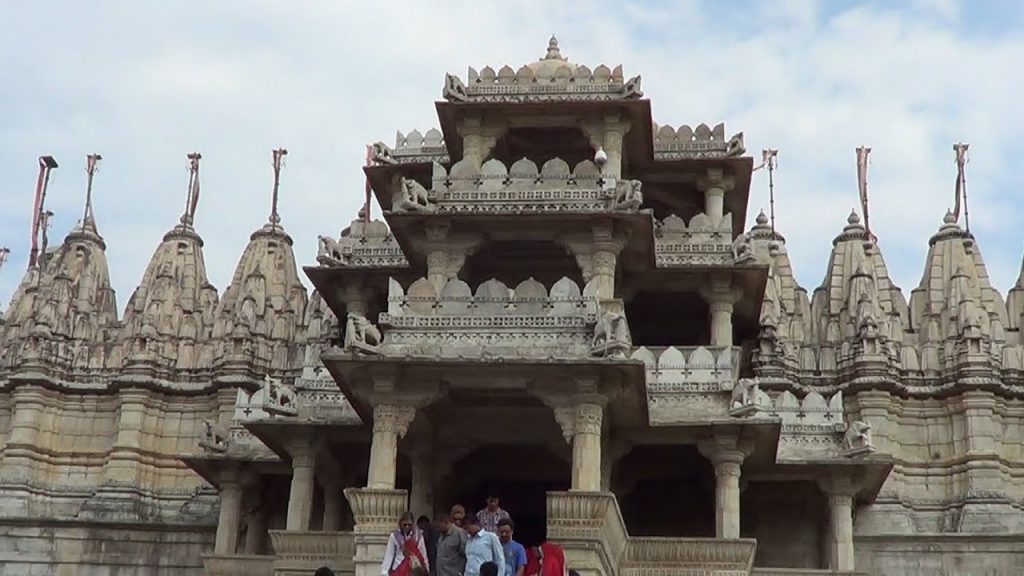 This temple was built during 15th C by a Jain businessman with name Dharna Shah. This temple is dedicated to Jain guru Adinath . This Temple is built by white marbels and it is one of the largest and important temples of  Jain . It is located in Pali district of Rajasthan and fall between Jodhpur & Udaipur and very famous among all traveller who are going to both Jodhpur & Udaipur . The campus  of temple includes several temples such as Chaumukha temple, Surya temple, Parsavanth temple and Amba temple etc
Hello:-
If you'd like to chat about visit India or need help finding a holiday to suit you we're very happy to help.
Ghum India Ghum Travel Agency in Chennai, Tamil Nadu
Ghum India Ghum – Travel Agent in Delhi | Tour Operator in Delhi
Grab a cab :- Delhi's best car rental company
Ghum India Ghum team.
+91-8860139194/ +91-9971089194
info@ghumindiaghum.com / ghumindiaghum@gmail.com