2023's Kedarnath Yatra will take place at Lord Shiva's temple, Kedarnath Dham. With a special ceremony, the hallowed temple's doors were opened today, i.e. on April 25, 2023, at 6:00 AM. The priests of the Omkareshwar Temple in Ukhimath choose the day and time of the Kedarnath shrine's inauguration in accordance with the Panchang, and the date is announced on Mahashivratri.
Kedarnath Yatra 2023: Opening and Closing Date
Opening Date – April 252023-06:30 AM
Closing Date – November 14, 2023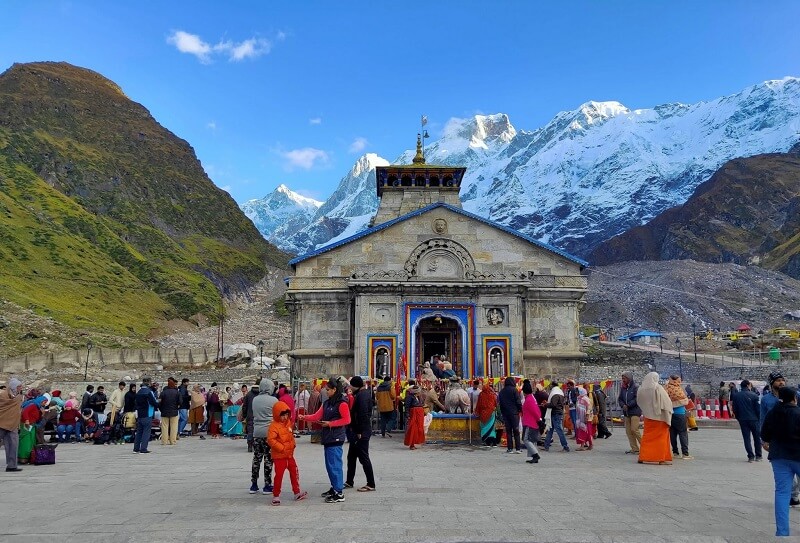 Kedarnath Yatra 2023: Opening Ceremony
Numerous Hindu devotees from all over the world travel to the sacred temple of Shiva on this day, which is regarded as the most auspicious day, to watch this event. Kedarnath's doors open after many hours of worship and prayer. The door opening ceremony is completed by Kedarnath Bal, who can be seen by devotees.
Kedarnath Yatra 2023: Closing Ceremony
During Ked Dham's closing ceremony, a lavish celebration is held. Baba Kedar Doli is transported by the Garhwal Band to Omkareshwar Temple in Ukhimath, which serves as Kedarnath's winter residence. On Bhai Dooj, the day following Diwali, the doors close.
Kedarnath will close on a set day, which is two days after the celebration of Diwali. Diwali will be held on November 12, 2023, hence Kedarnath will be closed on that day.
Kedarnath Yatra 2023: How to Book?
Official Website – badrinath-kedarnath.gov.in and https://uttarakhandtourism.gov.in/
Kedarnath Yatra 2023: How to Visit?
One of the most popular religious destinations is Kedarnath Tour Package, where thousands of devotees come to take in the sights. Before visiting this sacred location, however, visitors must first register on the official website. According to the new rules, just certa each day.
By helicopter, it is 18 kilometres from Phata, Sersi, and Sitapur to the temple.
When there is a lot of snowfall in the winter, the idol is moved to the Ukhima months of April and May.
Kedarnath Yatra 2023: FAQs
When will the Kedarnath doors open?
The doors to Kedarnath dham have been opened today.
How is Kedarnath accessible?
The prerequisite for visiting Kedarnath Dham is earlier registration for devotees.
What is the official Kedarnath registration website?

https://uttarakhandtourism.gov.in/

What is the cost of the Kedarnath Yatra?
Depending on the number of persons, the minimum cost can range from Rs.10,000 to Rs.40,000 per person.
Exactly when will Kedarnath's doors shut down in 2023?
The Kedarnath temple's doors will be shut on November 14, 2013
Hello:-
If you'd like to chat about visit India or need help finding a holiday to suit you we're very happy to help.
Ghum India Ghum Travel Agency in Chennai, Tamil Nadu
Ghum India Ghum – Travel Agent in Delhi | Tour Operator in Delhi
Grab a cab :- Delhi's best car rental company
Ghum India Ghum team.
+91-8860139194/ +91-9971089194
info@ghumindiaghum.com / ghumindiaghum@admin