Varanasi, the city of temples, also known as Banaras and Kashi. It is believed that Kashi has the oldest civilization in the world. As Indians say, Banaras is older than history and much older than any tradition. It is situated on the bank of holy river Ganges and is amongst the most sacred places. Every year Kashi sees millions of foot falls from Hindu pilgrims and foreigners. Varanasi is one of the most visited destinations in India and it amazes everyone with its uniqueness and calmness. It acts as a gateway for some interesting tours, for instance Varanasi Gaya Tour, Varanasi-Prayagraj, Varanasi-Ayodhya and many more.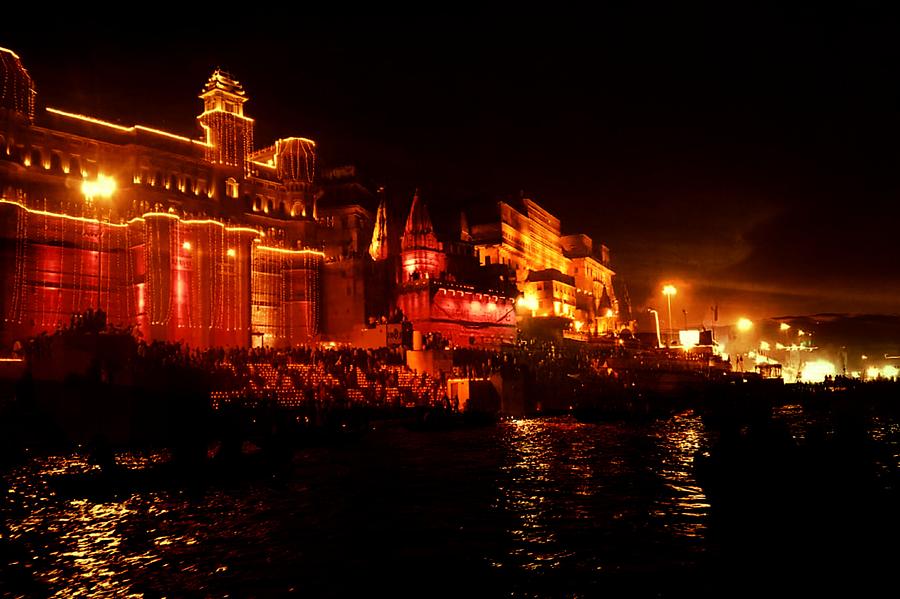 Varanasi is famous for its ghats, temples, Ganga aarti and delicious street food. Most of the ghats in Varanasi are named after famous Indian personalities. Earlier, kings and wealthy people had purchased land on the bank of river Ganges and lived until their last breath. And after their demise those ghats were named after them. Varanasi holds a special place in Hinduism and it is believed that if someone dies here they attain salvation. Therefore, Kashi has a lot of salvation homes, which are spread all across the city where people from every part of the world come here to live until their last days. Hindus from all across the globe come to Varanasi to immerse ashes of their loved ones in the Ganges. Performing last funeral rites is a common sight in Varanasi, Manikarnika ghat is a famous cremation site and it is famous among foreigners, and you can't stop getting emotional over the whole experience.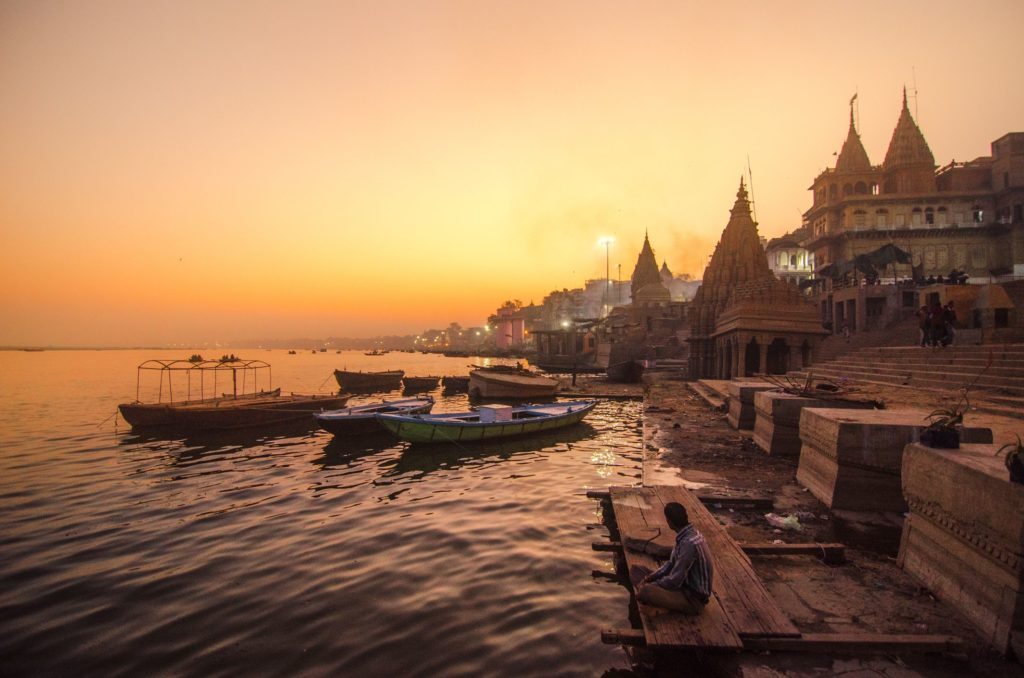 Being a leading travel company in India and leading travel agency in India, Ghum India Ghum is here with most awaited blog on Varanasi, which offers you list of places to visit in Varanasi, Things to do in Varanasi, Best places to stay in Varanasi, best Places to eat in Varanasi on your upcoming Varanasi tour packages from travel agents in Varanasi. Best time to visit Varanasi is from September to April but you can visit anytime because the weather is normally fine most of the time.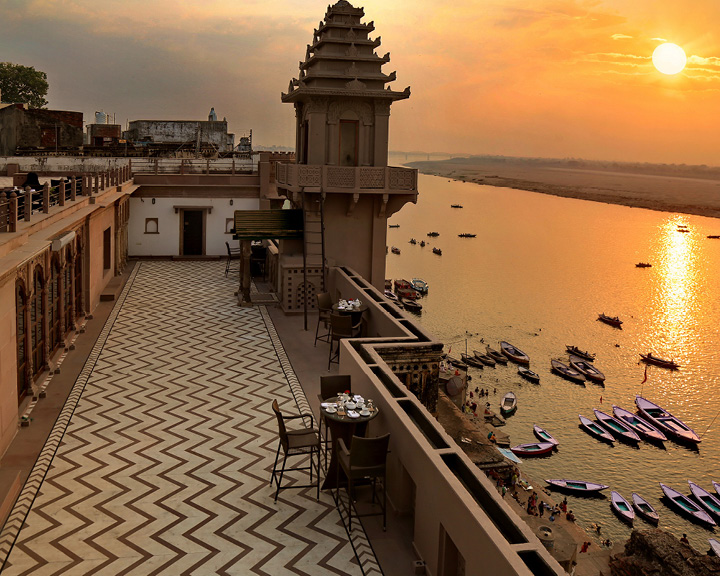 Best Places to Stay in Varanasi
Being an ancient city Varanasi offers all types of stays, ashrams to several budget guest houses, these ashrams often offer free stays. The best part of this is that these are situated near the ghats from where you can enjoy an amazing view of Ganges. You can also stay in Heritage hotels in Varanasi like BrijRama Palace Hotel in Darbhanga Ghat, Guleria Kothi on the bank of river Ganges to Iconic Taj Nadesar Palace in Varanasi which help in discovering the real heritage of Banaras. The city offers good comfortable stay with huge no of 3 star and 4 star hotels such as Meadows hotel, Silk City and many more. Most of the famous Indian and International chains have hotels in Varanasi such as Ramada, Radisson etc. As far as weather is concerned it gets hot and humid during summer, but nights are generally colder. Get the best deal on hotels in Varanasi from tour operators in Varanasi.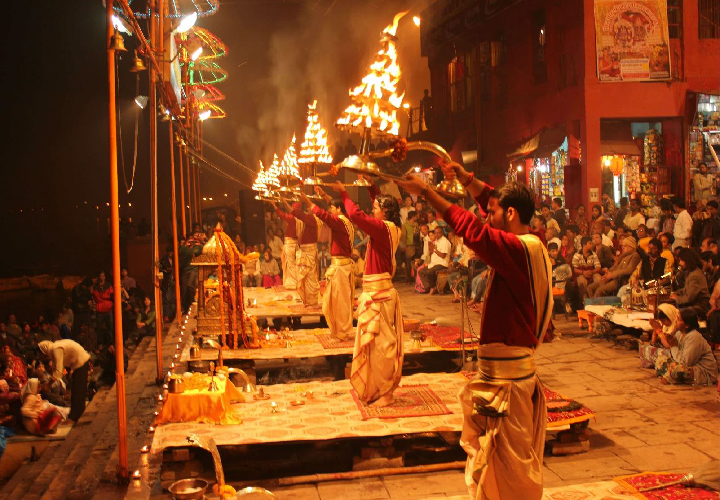 Places to visit in Varanasi :-
Varanasi is such an amazing destination that it is difficult to choose which places to visit and what to leave. Still being a local company of tour and travel in Varanasi we shortlisted a few places as per our expertises and clients feedback on tours in Varanasi. List for Varanasi tourist places as follows 1) Ghats of Varanasi 2) Ganga aarti at Dasaswamedh Ghat 3) Shri Kashi Vishwanath Temple one of the major Jyotirlingas, 4) Nepali temple, 5) Sarnath temples, 6) Manikarnika Ghat or Burning ghats 7) Banaras Hindu University which have one of the biggest university campus in Asia and many more on your Varanasi tour package from Bangalore
The Best Places to eat in Varanasi
Varanasi is not only famous for its rich culture, but is also known for its food. You shouldn't miss the variety of street foods that this city offers. When you are in Kashi go for Kullahad Chai you will find the taste of this tea different from regular tea or you can indulge in samosa, which is a pastry stuffed with spicy potatoes, your taste buds would be thankful for it. Then there is Launglata from small shops which offer authentic Varanasi taste. Banaras is also popular for rooftop cafes and restaurants, which offers continental cuisine along with local food, Rice Pudding Cafe and Restaurant RoofTop are among many examples. When you are in Varanasi do not miss on its delicious dessert called Rabri Malai Balai. Banarasi paan is so famous that it has made its place in Bollywood movies.  Also, go for street foods like Aloo tikki chaat and Pani puri. And if you are trying to be adventurous then you simply cannot ignore The famous Bhang and Thandai, of course from a licensed shop. Visit these places on your Varanasi tour package from Delhi or Varanasi tour package from Chennai.  
Hello:-
If you'd like to chat about visit India or need help finding a holiday to suit you we're very happy to help.
Ghum India Ghum Travel Agency in Chennai, Tamil Nadu
Ghum India Ghum – Travel Agent in Delhi | Tour Operator in Delhi
Grab a cab :- Delhi's best car rental company
Ghum India Ghum team.
+91-8860139194/ +91-9971089194
info@ghumindiaghum.com / ghumindiaghum@gmail.com