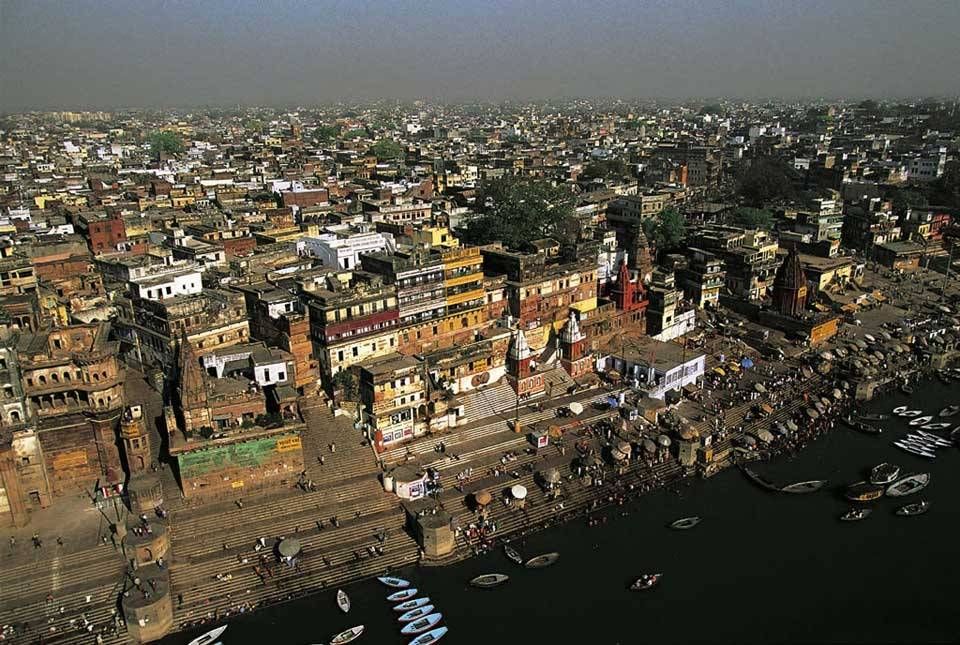 Varanasi is an ancient Holy city in Uttar Pradesh, India. Old name of Varanasi is Kashi and as per many historians Varanasi is older than history, its history goes back to several centuries. City of Varanasi is famously known as the religious capital of India. City has gone through several make over in the last few years after Mr Narender Modi got elected from here as an MP. We are a local travel agent in Varanasi, very few people know that the area between Varuna river and Assi Ghat is called Varanasi. Varanasi has a lot to offer to visiting tourists in Kashi, walking through narrow lanes, visiting several popular ghats and many more. We are here with a list of top things to do in Varanasi, or best places to visit in Varanasi or Top sights in Varanasi.
NOTE:- Spiritual Journey of Holy City Kashi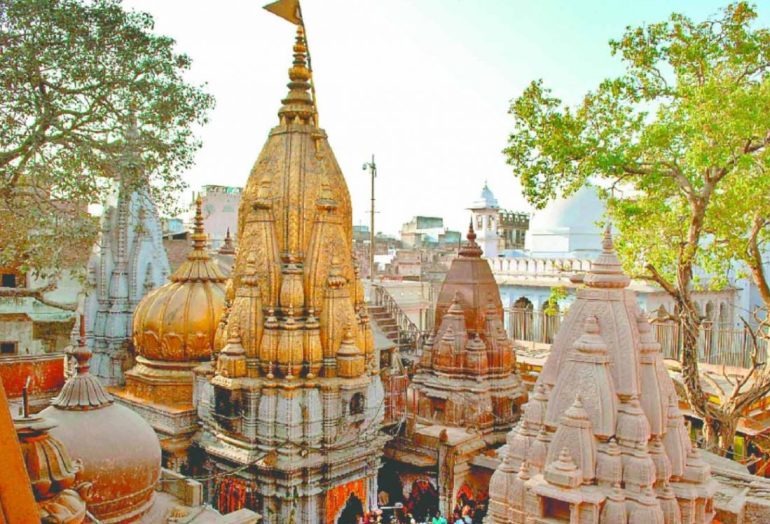 1) Visiting Sacred Kashi Vishwanath Temple
Kashi Vishwanath Temple, the most important Hindu temple in Varanasi, also famously known as the Golden temple dedicated to the Lord Shiva. Situated on the western bank of holy river Ganges and it is one of the twelve Jyotirlingas of the lord Shiva. Meaning of Vishwanath or Vishveshwara is the Ruler of The Universe. Present temple structure was constructed in 1780 by the Brave Maratha Queen, Maharani Ahilyabai Holkar of the Indore. Best way of visiting Kashi Vishwanath Temple or details for foreigners visiting Kashi Vishwanath temple and for Indians is booking advance Kashi Vishwanath Temple entrance tickets from the trust website. Foreigners need to carry a xerox copy of passport and visa along with the originals to enter the temple. Indian can book online darshan tickets too from the trust website. Indians can also go for normal darshan without an entrance ticket but most of the time the line is very crowded.
2) Walk along the ghats OR Varanasi Walking Tour OR Varanasi Ghats Walking Tour
Since Varanasi is not a very big city so no matter where you are staying Ghats are not very far from your stay in Varanasi. You are looking for Quality time in Varanasi then you must have to go for this walking tour in Varanasi. You will find plenty of raw actions at the ghats along the River the Ganges. You will be amuse to see Herds of Buffalo and Cows are being washed by children in the river, Teenage kids swimming in the river, intense cricket matches, people having their hair cuts, Priests or Sadhus doing meditations, Many Yogis doing Yoga at the ghats, left right and center and people are in prayer. If you are a photographer or interested in clicking the pictures then you will definitely get several memorables pics. You will find real India at these ghats. Being a leading Tour Operator in Varanasi we can say that This is definitely one of the most interesting things to do in Varanasi.
NOTE:- List of Ancient Temples in India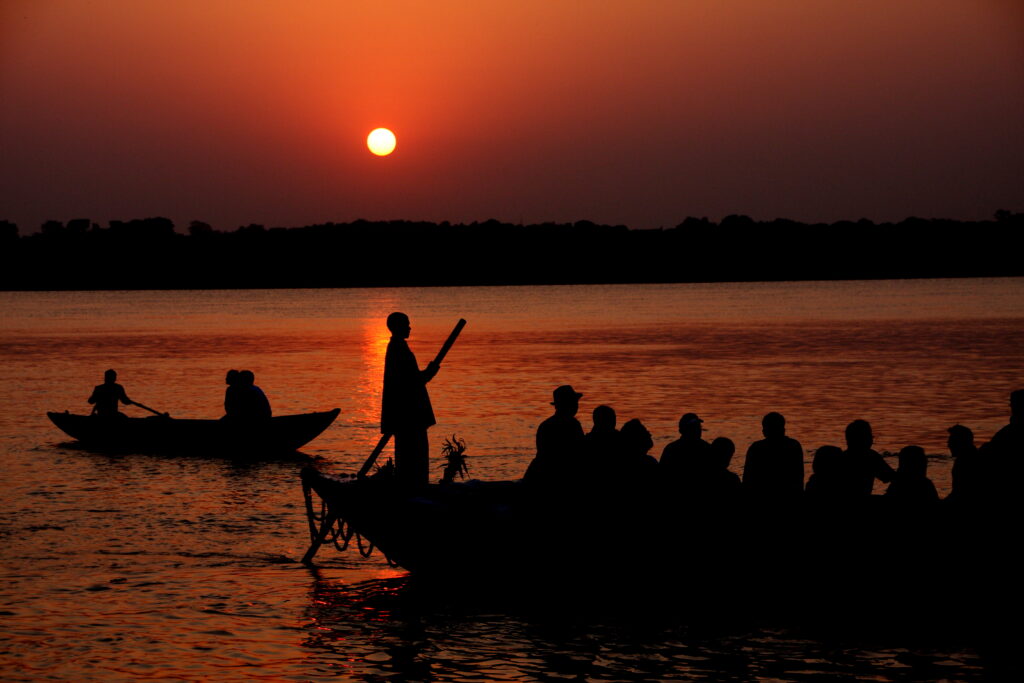 3) Sunrise boat ride in Varanasi
The Ganges which is the Holiest river in the world. Ganges is spectacular throughout the day but it is a quiet, mystical place during sunrise. This is the most important thing to do on your Varanasi tour. Soft pastel colors paint the sky as a few boats glide up and down the river. The boat will float you past all of the different ghat as well as passing multiple temples along the way, You will see a small floating market in Varanasi too. Even at sunrise, there is a lot of action packed on the banks of the river Ganges, Such as people taking their morning baths, washing loads of clothes on the bank of the river, Sadhus doing Meditations, locals practicing yoga, and setting up stalls and shops for a day of trading, in short you will how Varanasi starts its day every morning as well similarly rest of the India.
4) Experience the Aarti Ceremony or Participate in World famous Ganga Aarti in Varanasi
It is one of the must-see activities in Varanasi and must be included in every traveller's itinerary who is visiting Varanasi, The Ganga Aarti ceremony happens every evening at the main ghats at the banks of The Ganges River. If you want a good view of the Ganga Aarti in Varanasi then you need to reach there as early as possible because later it gets crowded with more than several thousands of people attending it everyday, many people prefer watching it from floating boats. Aarti is a very important Hindu worship ritual involving offering prayer to the deities. In this aarti priests offer prayer to all gods using seven things. Starting Timing of the Ganga aarti in Varanasi is around 7pm in summers and around 6pm in winters, it continue for 45mins to 1 hour. Ganga Aarti gives the goosebump to everyone who is attending it and when aarti is over, there is more purity in the air.
5) Visit the Burning Ghat in Varanasi or Manikarnika ghat tour
Most of the ghats of Kashi are incredibly interesting, But the burning ghat or Manikarnika Ghat is a unique place. It is here that people come to stay in the hospice when they are dying. The cremations of bodies, funerals and other ceremonies happen on the banks of the Ganges at this ghat. It is a famous belief in Hinduism that if you die or your body is cremated in Varanasi then you will go directly to heaven. As a tourist, you are allowed to pass through the ghat, observe and even take a few photos. Do remember that people are here to give farewell to their loved ones, so make sure you act with respect both with and without your camera. Beware of the people who will offer you a 'free' guided tour before trying to force you to make a donation.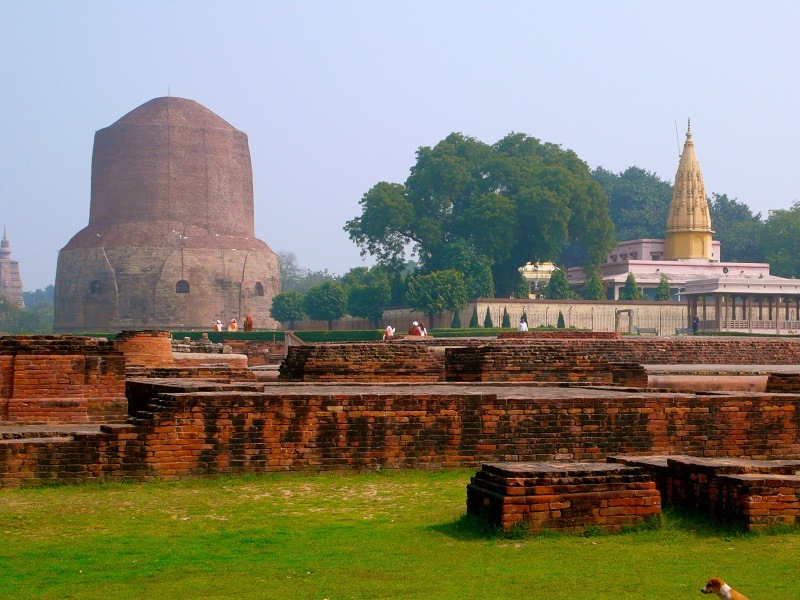 6) Sarnath Day Trip from Varanasi
Sarnath is another important tourist destination which is almost 10kms from Varanasi and one of the famous day trips from Varanasi. Sarnath is the place where Lord Buddha had preached his sermon or dharma to his first five disciples after attaining enlightenment in Bodh Gaya under the sacred Bodhi Tree. In Sarnath visit holy Dhamek Stupa – most visited and known as the most important Buddhist shrine in the world. Later also visit museums, Thai temple, Main temple, these are places to visit in Sarnath.
7) Visit Nepali Temple in Varanasi
Nepali temple, Pashupatinath Mahadev Mandir also known as the Nepali Mandir which is a Hindu Temple dedicated to lord Shiva. Pashupatinath Mandir in Varanasi is made out of wood , so it is also called as Kanthwala Temple; 'Kanthwala' means 'Wooden'. This temple is best example of Nepali Style of Architecture in India, materials which are used to build it are terracotta, wood and stone. Nepali Pashupatinath temple in Varanasi construction was started Late Rana Bahadur Shah, the King of Nepal when he was in exile in Varanasi and Later after 20yrs it was completed by his son Girvan Yuddha Bikram Shah Dev. Nepali Temple is situated at Lalita Ghat in Varanasi. This is one of important things to do in Varanasi.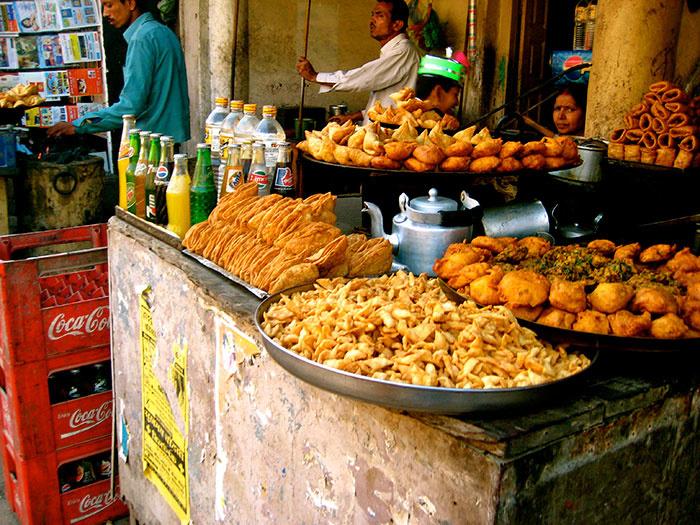 8) Try the street food in Varanasi
Apart from Spiritual tourism in Varanasi, It is also famous for Street foods you will have several varieties of street food options are available. Try lassi at Blue Lassi which can be found easily. Try delicious chat at Deena Chat Bhandar, Varanasi is also famous for Kullad Chai you will find small chai shop with tasty chai, Try delicious Samosa and Longlata sweet from corner shops in Varanasi, Try famous Mouth watering rabri sweet in Varanasi. Varanasi is heaven for food lovers and perfect destination for food bloggers
Hello:-
If you'd like to chat about visit India or need help finding a holiday to suit you we're very happy to help.
Ghum India Ghum Travel Agency in Chennai, Tamil Nadu
Ghum India Ghum – Travel Agent in Delhi | Tour Operator in Delhi
Grab a cab :- Delhi's best car rental company
Ghum India Ghum team.
+91-8860139194/ +91-9971089194
info@ghumindiaghum.com / ghumindiaghum@gmail.com