Since ninety percent of tourists visit three major islands of Andaman – Port Blair, Havelock  and Neil Island.  Apart from These Andaman can also visit  Baratang Island which is 150kms from Port Blair and Baratang is famous for Lime caves, Mangroves forest and Barren Island which have only active volcano in Indian Subcontinent.  You can opt for Baratang island day trip from Port Blair. Other famous places in Andaman are Rangat Island, Long Island, Little Andaman, Jolly Buoy, Red Skin Island, Simply Stunning twin beaches of Ross and Smith island in Diglipur. But we in this blog most highlight on the places to visit in Port Blair, Havelock and Neil Islands. One very Important thing i want to discuss is that foreigners need special permission to visit Andaman which they can easily get on arrival at Port Blair airport and RAP – Restricted Area Permit is valid for 30 days only. It's also important to share that only Islanders are allowed to visit Nicobar island and Rest of the Indians need to get special permission from authority.
Port Blair is the capital city or Capital island of the Andaman and Nicobar islands, Veer Savarkar International Airport is situated in Port Blair. We are here with places to visit in Port Blair, Things to do in Port Blair or Top sights in Port Blair.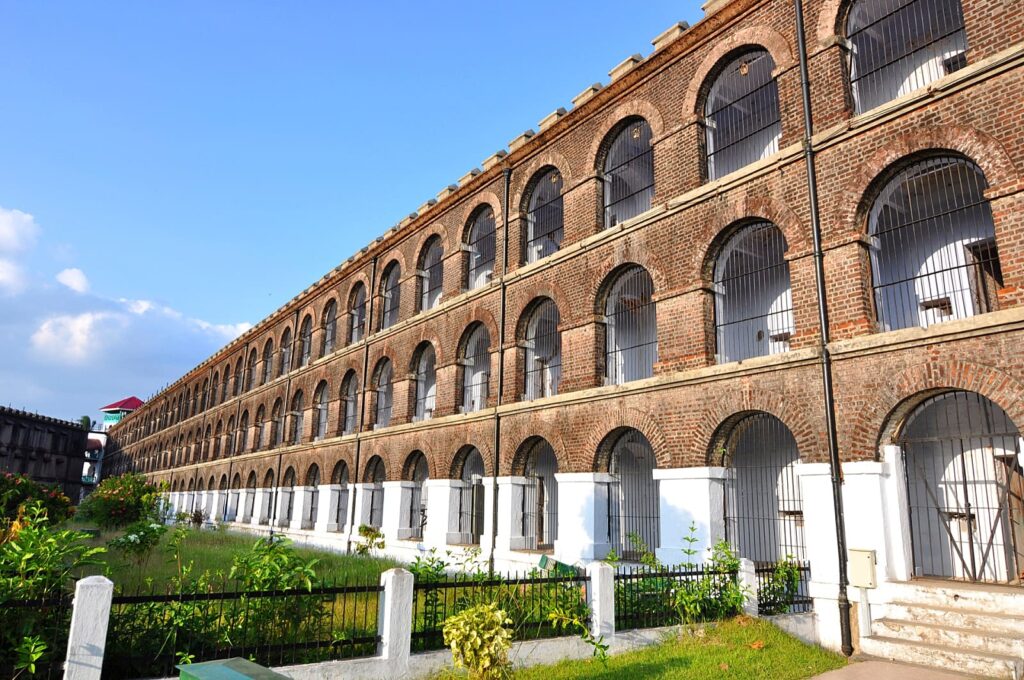 1) Cellular Jail :- This Jail holds a very important place in every Indian's heart and many heros of Indian freedom movement were imprisoned here. Cellular Jail also known as Kala Pani Jail, was a colonial Jail situated in Port Blair. This was built in 1906 and used to imprison or exile many Indian political prisoners Batukeshwar Dutt, Vinayak Damodar Savarkar and Yogendra Shukla are few names of notable freedom fighters who were jailed here. This complex is now under the Government of India and preserved as the national memorial monument that displays our freedom fighters life as prisoners during the British era and atrocities they had suffered during this time.  Ghum India Ghum being local tour operator in Andaman island we will suggest you to visit this place in evening so that you can understand the history of this jail with light and sound show in Cellular jail, available in both English and Hindi languages.
2) Chidiya Tapu Beach ;- This is the finest beach of Port Blair island and one of the best beaches of Andaman and Nicobar beach. Chidiya means birds in Hindi and Chidiya Tapu beach homes to several types of bird species. This beach is also famously called as Flying Creature Island or Nightfall Point. This beach is 18kms from Port Blair city and a drive to this beach from the city takes you through some scenic view points. You can capture some breathtaking sunset views from Chidiya Tapu beach, This beach is so beautiful and you will find many viral pictures of Andman on the internet from this beach.  
NOTE:- Famous Stepwells in Rajasthan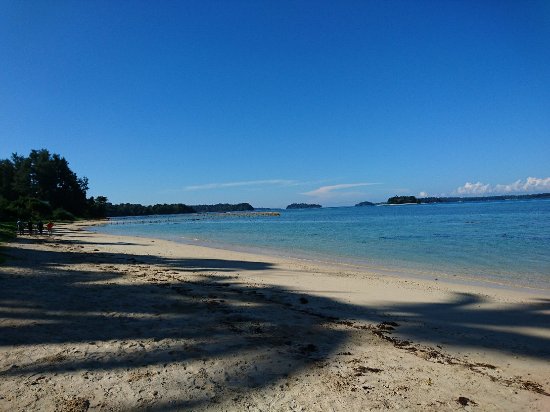 3) Wandoor Beach
This is 2nd best beach of Port Blair island and popular for its coral, Wandoor beach in Port Blair is one of the most visited beach of Andaman and it is gateway to Mahatma Gandhi National Marine Park which is best place in Andaman to spot splendid marine and corals fauna. Wandoor beach is 20kms from from Port Blair city and this beach is surrounded from three sides by huge variety of Fauna. This beach have crystal clear blue water and water depth at beach is perfectly gradual which make it suitable for bathing and other beach side activity with your loved one.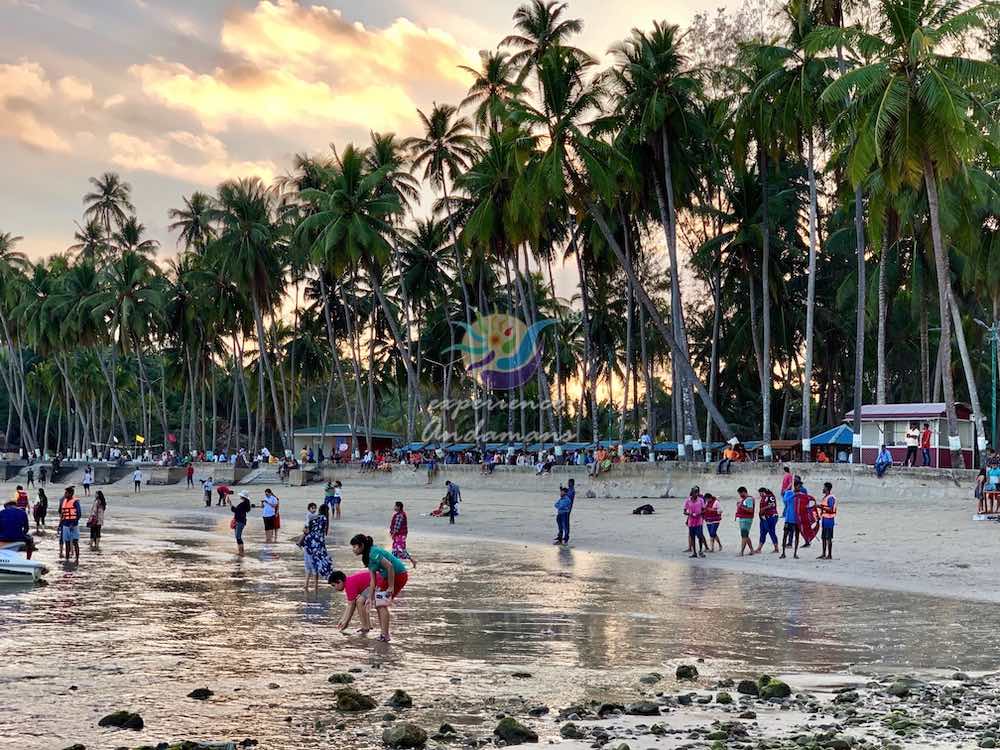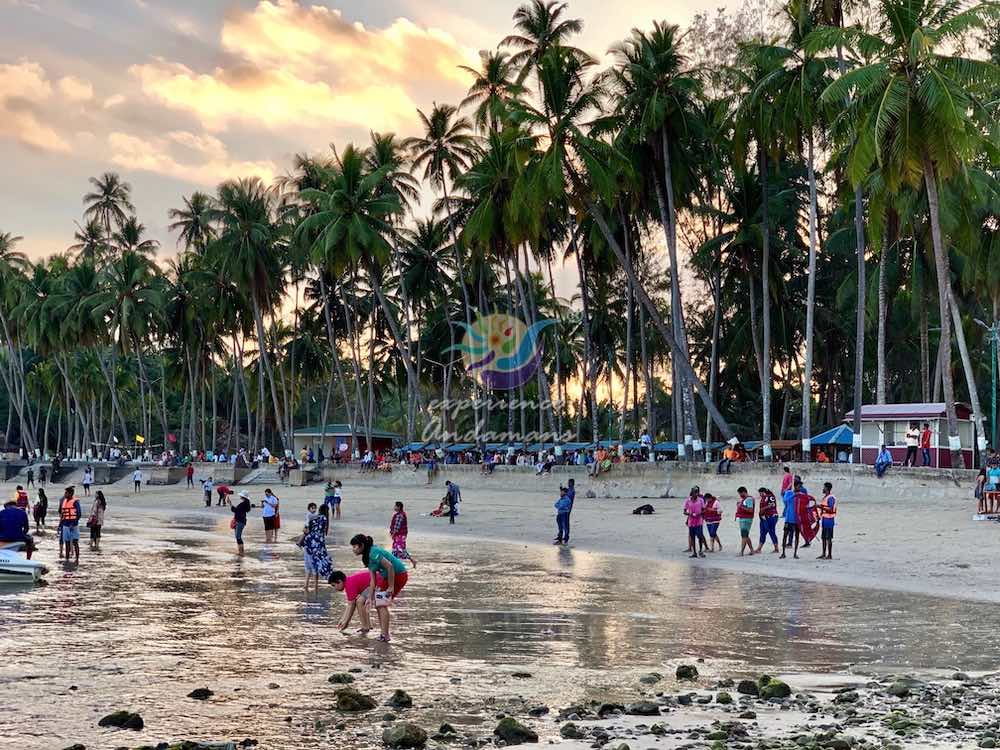 4). Corbyn's Cove Beach
This beach is situated in centre or Capital city Port Blair and regarded as one of the cleanest beach of Andaman. Corbyn's Cove is famous for its crystal clear water and beautiful surroundings which make it very suitable beach for swimming and spending quality time. This beach is most commercialised beach of Andaman you will get several beach shacks with delicious seafood cuisines, Also famous for water-sports activities in Andaman you can go for boat ride to Snake Island to see alive corals, may go for speed boat rides, Jet Skis, Parasailing and Scuba diving or Sea Kart Ride at Corbyn's Cove beach.
NOTE:- Top 10 Ancient Sites in World You Have Not Heard About History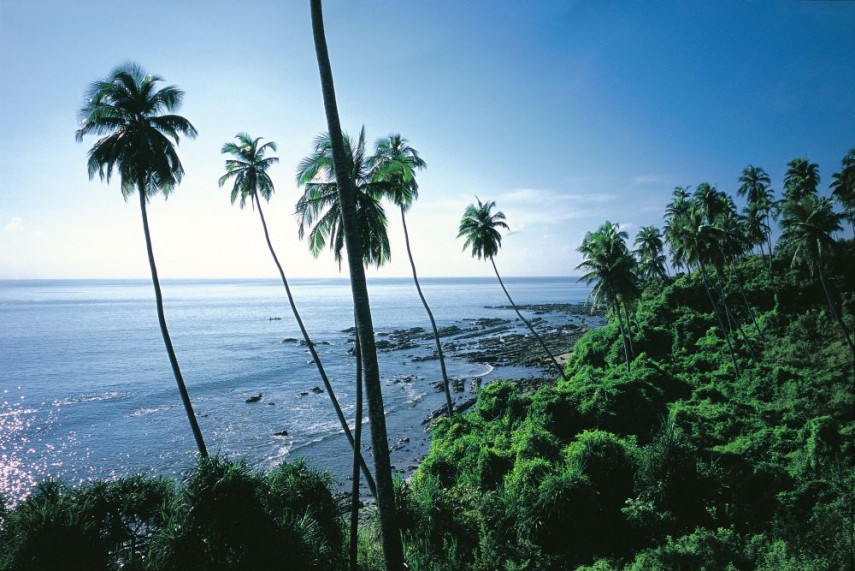 5) Netaji Subhash Chandra Bose Island
Ross Island which is renamed as Netaji Subhash Chandra Bose Island by prime minister Mr Narender Modi in 2018 and it is situated 3kms east from Port Blair City, Ross Island was old Capital city of Andaman and Nicobar Island during British time. You can reach Ross Island from Port Blair by boats. Things to do in Ross Island is visit the Ruins, You may Attend the Light and Sound Show, Explore the Sanctuary, the man-caves and the Pond. You will find lot of British administrative Building and Japanese building structures in Ross Island. The sanctuary is located in middle of Ross Island which is full of deer and peacocks are living under reserved area.
Hello:-
If you'd like to chat about visit India or need help finding a holiday to suit you we're very happy to help.
Ghum India Ghum Travel Agency in Chennai, Tamil Nadu
Ghum India Ghum – Travel Agent in Delhi | Tour Operator in Delhi
Grab a cab :- Delhi's best car rental company
Ghum India Ghum team.
+91-8860139194/ +91-9971089194
info@ghumindiaghum.com / ghumindiaghum@gmail.com