Stepwells are ancient engineering solution to continuous water shortage and harsh climate problem in India. In India some northern states and the western states always had water shortage issue due to their hot climate conditions. That the reason you will find most of the stepwell in states like Gujarat, Rajasthan and Delhi. Oldest stepwell of India is traces dates back to 550AD, initially stepwell were very simple in construction but with change in time more significances gives to architecture and decoration. Later on stepwell also became places of prayer, or sometime stepwell were built near a temple. Stepwell called with different names in states for example in Rajasthan stepwell are locally called as Baori or Vav.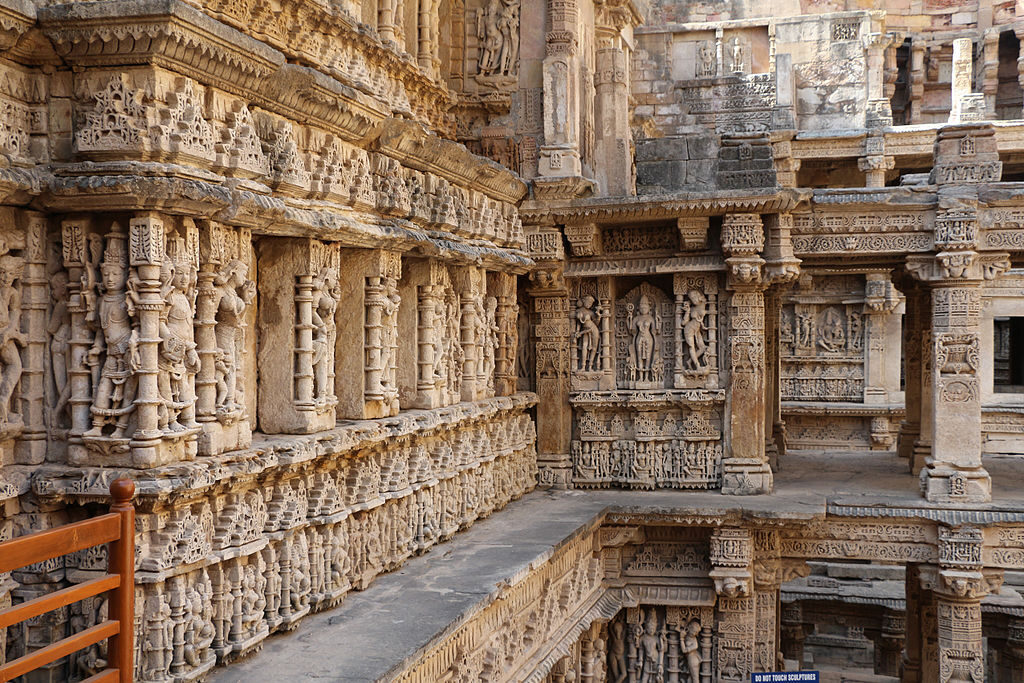 Over the time the emperor constructed resting area which where small in size, at some places large courtyards were also built inside, Main aim behind building resting area was when water level goes down during summer time these area will be available for emperors as a cool retreat places sometime temperatures at these courtyards are 10 degrees less than outside. Now Stepwell are new photography point because it offers huge and unique backgrounds for social media picture. Ghum India Ghum which is a leading travel companies in India and leading travel company in Delhi is here with Famous stepwell of India.
1) Chand Baori in Abhaneri, Rajasthan
First on our list famous Chand Baori in Abhaneri, which is regarded as one of the most visually spectacular stepwell and one of the most visited stepwell in India. This Stepwell is located around 90 kms from Jaipur (Rajasthan) and perfectly fall under India Golden Triangle tour so it attract more tourist from all across the world. It was Constructed by King Chanda of the Nikumbha Dynasty name of this stepwell is also dedicated to King Chandra, It was built between 800 and 900 AD but present time structure is built in many duration upper portion was built by Chauhan Dynasty .With 3500 steps, 13 stories deep which is around 64 feet deep it is India's deepest and Largest stepwell.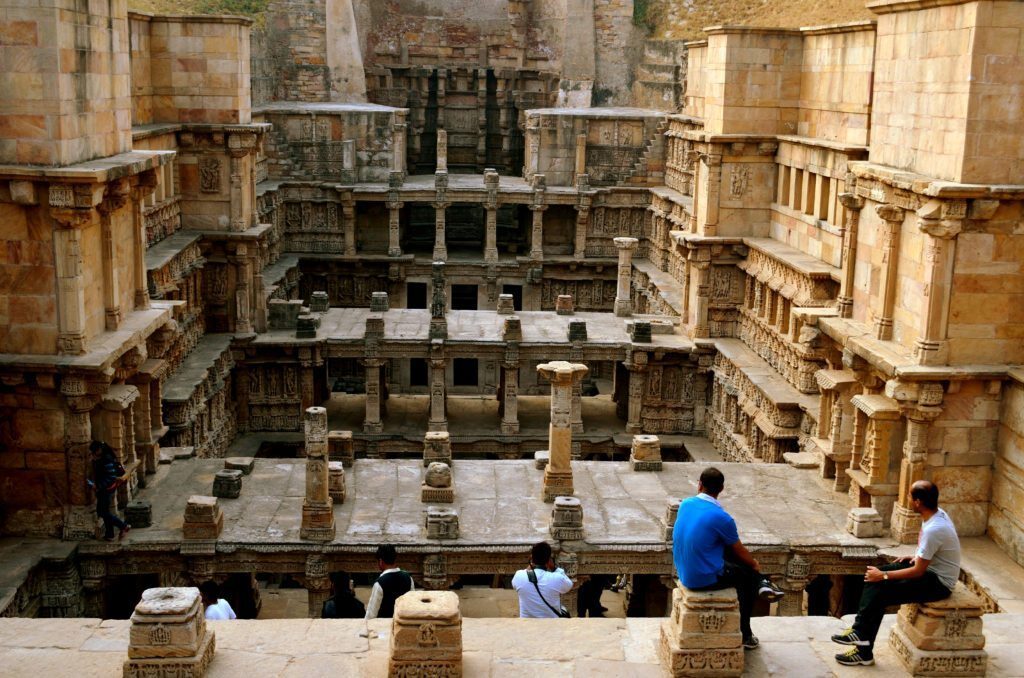 2) Rani ki Vav in Patan, Gujarat
Second on our list is Rani ki Vav (or Queenís stepwell) which is a UNESCO recognised World Heritage Site in Patan, Gujarat. As per historian this stepwell was constructed in 1050 Ad by queen Udayamati in the memory of her late husband King Bhimdev. Rani ki Vav stepwell was flooded by Saraswati River and In 1980 it was excavated by the ASI (Archaeological Society of India). The main USP of this monument is step of this stepwell are very wide and beautifully carved with several Hindu gods and goddesses, Most of the carvings are dedicated to Lord Vishnu in several forms.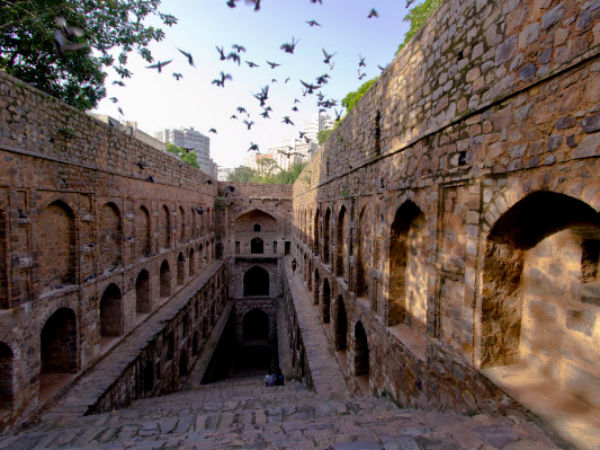 3) Agrasen ki Baoli in New Delhi, Delhi
Agrasen ki Baoli is third on our list, situated in heart of New Delhi, near to Connaught Place and next to Jantar Mantar in Delhi. Agrasen ki Baoli is 60 mtrs deep, 15mtrs wide and it have 103 steps. Clear proof of who built Agrasen ki Baoli not available but it is believed that it was originally constructed by Emperor Agrasen, but it is also believed that it was reconstructed in 14th century. Earlier it wad famous amongst local as haunted place in Delhi due to presence of numerous bats and eeriness of the location. This monument became more popular after several hit Hindi movies were filmed here like PK, Sultan, Mom as well as few scenes of second episode of The Amazing Race Australia 2 was also filmed here.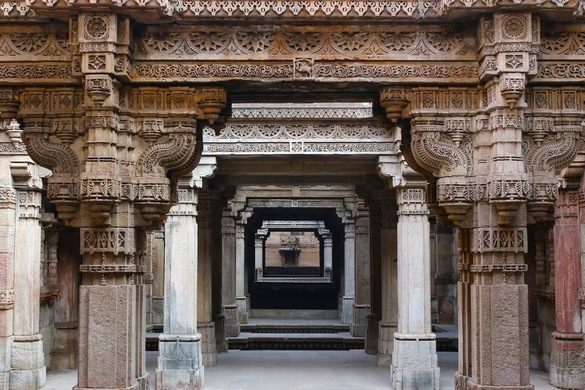 4) Adalaj ni Vav in Adalaj, Gujarat
Adalaj ni Vav is 4th on our list and it is another famous stepwell in Gujarat, approximately 18 kms from Ahmedabad. 2nd most visited stepwell in Gujarat very tragic story is associated with this Stepwell or Vav. Construction of this Vav was started by than king Dandai Desh but in 1499 a muslim invader attacked his region and killed the king, but he fell in love with queen of King Dandai Desh. The Queen promised to marry him on one condition when he will complete construction of this stepwell in honour of the King Dandai Desh. The Muslim ruler agreed and completed the construction but queen jumped in this stepwell and gave her life.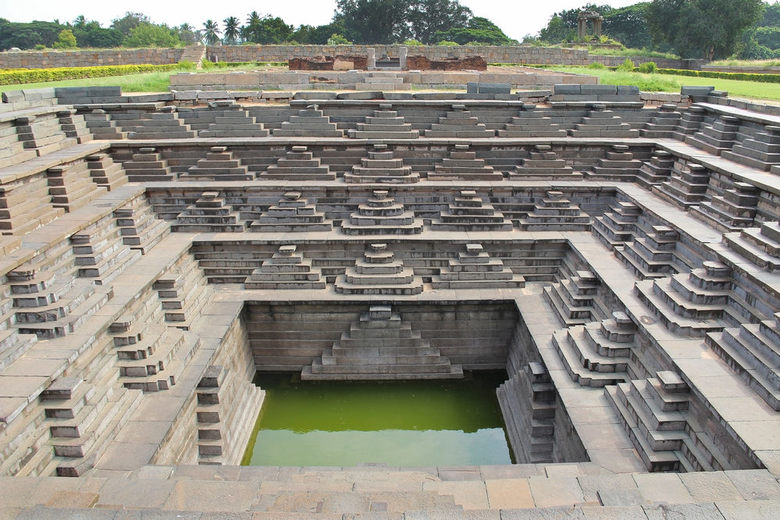 5) Hampi Pushkarini in Hampi, Karnataka
Fifth on our list is Pushkarini in Hampi, Pushkarini means temple tank in local language. The Pushkarini is situated near to Mahanavami Dibba in the main compound of the Royal Center of Hampi. The exclusive feature of this stepwell is that the water inside it was filled by aqueducts, which was very similar to the ones used by the Romans. The Pushkarini is entirely geometrical in dimension, devoid of any elaborate carvings. ASI found pieces of it and then restored it by piecing the stepwell back together.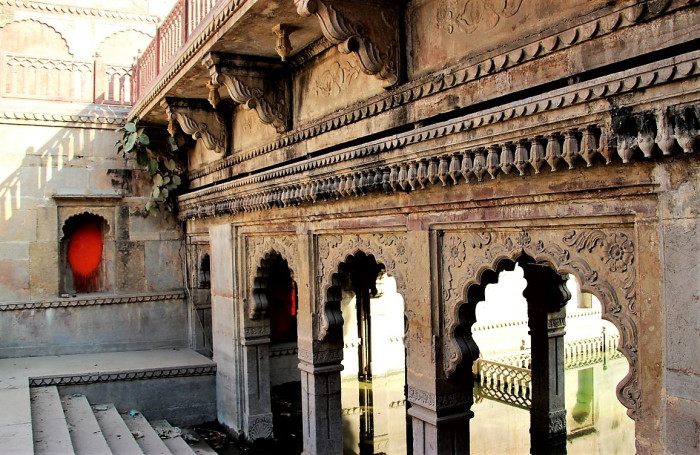 6) Rani Ji Ki Baori, in Bundi Rajasthan
Sixth on our list is Rani ji ki Baori in Bundi which also means Queen's Stepwell. It was named of this stepwell dedicated probably because it was constructed under guidance  of the Queen Nathavati in 1699 AD. Bundi is also famously known as the city of stepwells in India, which show the significance of these tanks which were used for water conservation in the arid region of Rajasthan. There are around 50 tanks or Baoris in Bundi Out of which 21 such tanks were constructed by Queen Nathwati herself.
Hello:-
If you'd like to chat about visit India or need help finding a holiday to suit you we're very happy to help.
Ghum India Ghum Travel Agency in Chennai, Tamil Nadu
Ghum India Ghum – Travel Agent in Delhi | Tour Operator in Delhi
Grab a cab :- Delhi's best car rental company
Ghum India Ghum team.
+91-8860139194/ +91-9971089194